Chocolate in a New Era Sustainability, Innovation and Education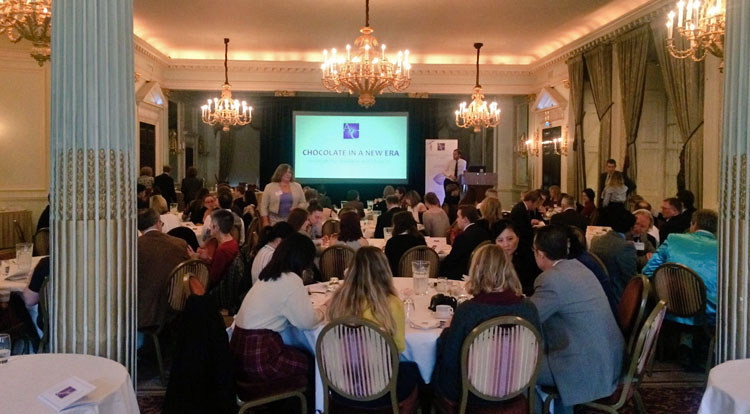 Sustainability, Innovation and Education
8.30am – 5pm Thursday 13th October 2016
The Royal Automobile Club, Pall Mall, London
Hosted by Nigel Barden,
Broadcaster, journalist and chocolate lover
Chocolate is entering a new era of challenge, with fresh insight, innovation, smart sustainability and consumer education central to its survival. The AoC's 2016 conference is focusing sharply on what is called for from farm to bar to ensure the future of sustainably produced fine chocolate. There will be an opportunity to meet global experts, cacao and chocolate producers; to watch master chocolatier demonstrations and to sample AoC 2016 Gold Award winning chocolates.
Experts from the world of chocolate, amongst them artisans and global producers, include Bertil Akesson (Akessons); Phil Buckley (Hotel Chocolat); Chantal Coady OBE (Rococo); Pierre Courtemanche (GeoTraceability); William Curley; Nicko Debenham (Barry Callebaut); Bill Guyton (World Cocoa Foundation); Frank Homann (Xoco); Marie-Pierre Moine; Christopher Reeves; Antoine de Saint-Affrique (CEO, Barry Callebaut); Sara Jayne Stanes OBE; Angus Thirlwell (Hotel Chocolat); Will Torrent
The Academy will also be announcing the winners of its 2016 Golden Leaf Awards
The Academy of Chocolate conference is aimed at all levels of knowledge; whether you already have a chocolate business, are starting a chocolate company or just love chocolate, this one day event will appeal.
Your ticket includes a full day of topical chocolate sessions, Q&A, lunch and refreshments,
lots of chocolate, and a goody bag to remind you of the day.
TICKETS £150 BOOK NOW!
Early bird £125 until 26th September
With thanks to the generous support of
RAC Dress Code: Lounge suits and ties, please
For more information
or to book your place email: 
[email protected]