First-Ever Dark Milk Chocolate Wins Top Prize As Artisanal Producers Shine At Top Chocolate Awards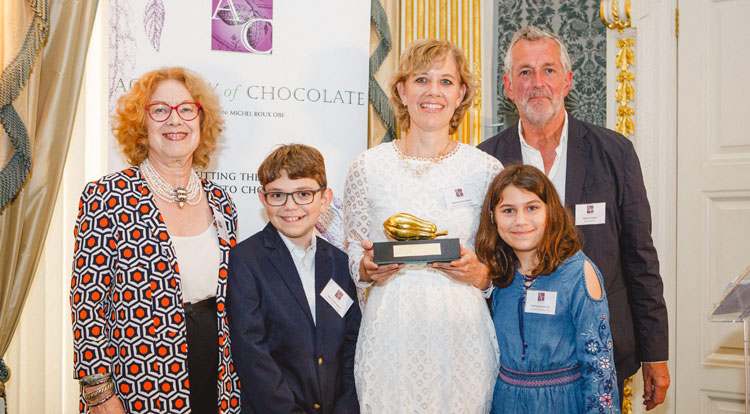 PRESS RELEASE July 2019
Castronovo Chocolate has been named as winner of the coveted Golden Bean trophy for its Sierra Nevada Dark Milk 63% at the prestigious Academy of Chocolate awards – the first ever awarded to a dark milk chocolate bar.
The Florida-based business was one of a number of artisanal producers to pick up prizes, signaling a major increase in fine chocolate awareness and understanding.
A record-breaking 1,600 entries from 46 countries were considered by the Academy's panel of expert judges, and winners were presented with their awards at a high-profile event held at Claridge's Hotel in London's Mayfair.
Master chocolatier Denise Castronovo's 63% Sierra Nevada dark milk bar uses wild heirloom cacao harvested by the Arhuaco indigenous people. Originally developed to bridge the great fine chocolate divide between discerning palates who enjoy milk chocolate and the dark chocolate purists, dark milk chocolate has emerged as a hugely popular trend.
A higher percentage of cacao means that dark milk chocolate has less sugar and ultimately more flavour, providing top bar-makers like Castronovo and Tobago Cocoa Estate – a fellow winner of Gold for dark milk – the opportunity to showcase their skills. The Tobago Cocoa Estate bar is made in conjunction with Friis-Holm.
Other special awards to be presented were five rising star awards.
The UK Rising Star 2019 went to Luisa's Vegan Chocolates (bars), highlighting growing demand for quality fine vegan chocolate. Based in Nottingham, the producer makes bean-to-bar chocolate using cacao beans sourced from volcanic islands in the South Pacific and Indian Ocean.
Norway-based Anyri Chocolat (bonbons) was named European Rising Star 2019.
There were three winners of the International Rising Star 2019 award: Valenza Chocolatier (bonbons), which creates Italian-inspired chocolate in California, USA; DesBarres Chocolate (bars), a micro-batch producer of single origin bars based in Ontario, Canada; and Metiisto Artisan Chocolate (bars), which creates bean-to-bar from Solomon Islands cacao out of Toowoomba, Australia.
The packaging Brand Experience Award, launched in 2018 to celebrate the pleasure of chocolate as a complete moment-by-moment experience, from attractive functional packaging to enjoyable mouthfeel was awarded to Foundry Fine Craft Chocolate from Mahurangi, New Zealand. Their bar wrappers demonstrated a creative concern for sustainability and presenting chocolate information attractively and concisely.
Sara Jayne Stanes OBE, Academy founder, said: "We are particularly impressed with the quality, craftsmanship and enthusiasm shown in all those small producers from around the chocolate world who won awards. The talent and creativity of newcomers is notable and we applaud the enduring continuity, brilliance and expertise of regular entrants.
"With so many incredible entries, the task of determining our winners was harder than ever. We were looking for complexity and innovation, stunning appearance and a beautiful melt. And in our special award winners this is precisely what we found."
Ends…
Notes to editors:
List of overall winners
www.academyofchocolate.org.uk/awards/
Media contact:
Piers Zangana
Susa Comms
t: 07960 078 935
e: [email protected]
About The Academy of Chocolate
Formed in 2005, The Academy of Chocolate is an independent membership body that promotes real chocolate.
This is achieved by working with manufacturers, producers and retailers to raise awareness and understanding of the role chocolate plays in society and overall wellbeing"
The Academy showcases great taste, encourages sustainable and ethical production, and provides educational opportunities.
www.academyofchocolate.org.uk